LaserCap SD
Specifications
1.15 J/cm² Energy Dose
Standard Coverage Area
80 Laser Diodes
The Original LaserCap SD kit. FDA-cleared laser therapy for male and female pattern hair loss. The LaserCap SD contains 80 laser diodes, delivering a prescription-strength, 1.15 J/cm2 dose of light energy to the hair follicles. Portable and discreet, use the LaserCap SD just 30 minutes every other day for thicker, healthier hair.
The LaserCap SD is best for
Mild, early-stage hair loss
Hair loss on vertex/crown (top of head)

LIFETIME limited warranty policy

ONE-YEAR satisfaction guarantee
$1,195.00
-
EFFECTIVE

Prescription-strength laser therapy, FDA cleared for hair regrowth in men and women.

safe

All-natural, no drugs involved, and free from harmful side effects

CONVENIENT

Use LaserCap less than 2 hours per week at home or on the go.
ABOUT THE LASERCAP
As the original technology of its kind, LaserCap has perfected the delivery of prescription-strength laser therapy for hair regrowth. A light and flexible cap lined with true laser diodes, LaserCap illuminates the hair follicles with monochromatic red laser light at a finely-tuned wavelength and intensity. This treatment, known as Low-Level-Laser Therapy (LLLT), is scientifically proven to restore the hair of both men and women suffering from thinning and balding. The LaserCap is FDA-cleared to promote hair regrowth in both men and women with pattern hair loss.
Learn More
Take the Questionnaire
YOUR LASERCAP KIT INCLUDES: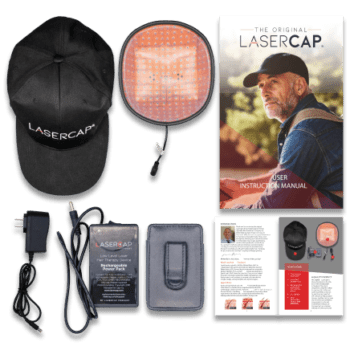 Your Original LaserCap!
LaserCap Baseball cap
Portable and rechargeable battery pack
Leather battery pack case
AC wall charger
User instruction manual
LIFETIME warranty policy
ONE-YEAR satisfaction guarantee
You may also like…
Quantum – V1 Hair Health Nutriceutical

$

150.00

-
DISCLAIMERS PLEASE READ
1. LaserCap Device Indications for Use:
LaserCap is a 510k FDA-cleared, home-use therapeutic device indicated to promote hair growth in men and women with Androgenic Alopecia, Fitzpatrick Skin Phototypes I to IV, Ludwig-Savin classifications of I-II in women, and Hamilton-Norwood classifications of IIa-V in men.
2. LaserCap Device Contraindications for Use:
Do not use LaserCap if you have been diagnosed with skin cancer of the scalp, head, or neck.