LaserCap HD
$2,495
-
The Original LaserCap HD kit. FDA-cleared laser therapy for male and female pattern hair loss. The LaserCap HD contains 224 laser diodes, delivering a prescription-strength, 3.23 J/cm² dose of light energy to the hair follicles. Portable and discreet, use this hair growth laser cap for just 30 minutes every other day for thicker, healthier hair.

LIFETIME limited warranty policy

ONE-YEAR satisfaction guarantee
Specifications
3.23 J/cm² Energy Dose
Standard Coverage Area
224 Laser Diodes
The LaserCap HD is best for
Moderate, more advanced hair loss

Hair loss on vertex/crown (top of head)
Clinical Strength

The LaserCap HD delivers 190% more light energy than other laser hair therapy devices on the market.

Lifetime of Value

With our Lifetime Limited Warranty, you can regrow your hair and maintain your results for years on end.

Doctor Recommended

Doctors recommend our hair growth laser cap for treating pattern hair loss in men and women.

FDA-Cleared

The FDA has cleared the LaserCap HD LLLT technology for restoring thinning hair.

Portable and Discreet

The LaserCap HD is hands-free and mobile. Place it under your favorite cap and wear it anywhere.

Visible Results

Achieve visibly thicker, healthier hair by wearing the LaserCap HD for just 30 minutes every other day.
About the LaserCap HD
One of the strongest laser caps on the market, the LaserCap HD is only outpowered by the LaserCap HD+. With 224 medical-grade laser diodes, this hair growth laser cap delivers prescription-strength laser therapy to restore your thinning hair. Powerful light energy revitalizes dormant hair follicles, causing them to grow thicker, healthier hair. Enjoy a fuller head of hair within 4-6 months of treatment.
What's Included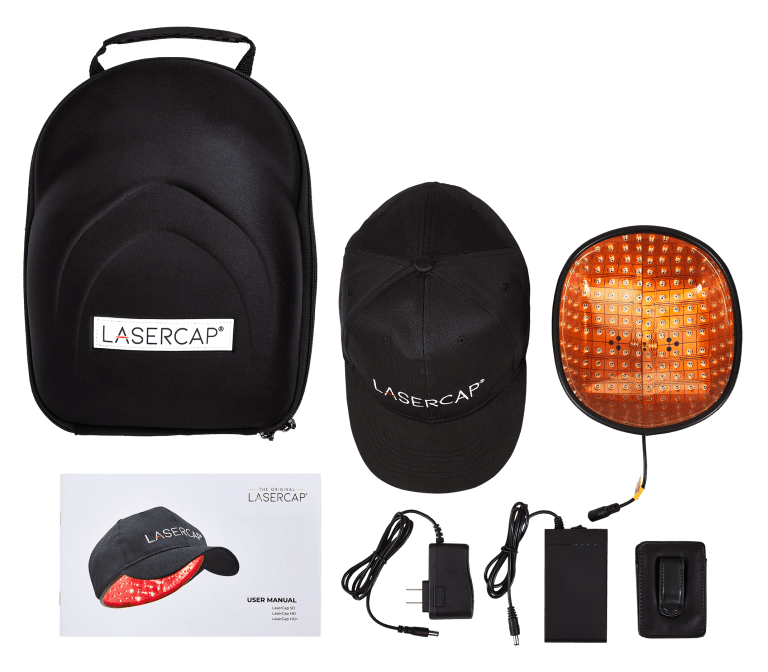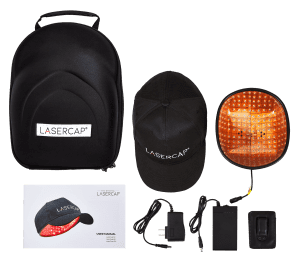 LaserCap HD 224 diode device
Baseball cap
Rechargeable power pack
Power pack wall charger
Leather power pack holder
Foam travel case
User manual
How to Use
For best results, use the LaserCap HD for 30 minutes every other day. Please refer to your user manual to find detailed instructions for use.
How it Works
The LaserCap HD is a FDA-cleared laser hair therapy medical device that delivers a treatment called Low-Level-Laser-Therapy (LLLT), also known as Photobiomodulation Therapy (PBMT). LLLT is safe, natural, free from drugs or other chemicals, and clinically proven to be an effective treatment for male and female pattern hair loss.
LLLT works by stimulating hair follicles with low-intensity red laser light. When hair follicle cells absorb this specific kind of light, they are able to "work," that is, perform cellular respiration more efficiently, and produce thicker, healthier hair.

Indications for Use
Degree of Hair Loss
The LaserCap HD can be used by men and women with thinning hair due to hereditary pattern hair loss, also known as Androgenetic Alopecia. Doctors use specific rating scales to describe the degree of hair loss. 
For men, this is the Hamilton-Norwood scale whereas for women, this is the Ludwig-Savin scale. The LaserCap HD is indicated to treat hair loss in men with Hamilton-Norwood classifications of IIa-V, and women with Ludwig-Savin classifications of I-II. These classifications are shaded in the diagram below.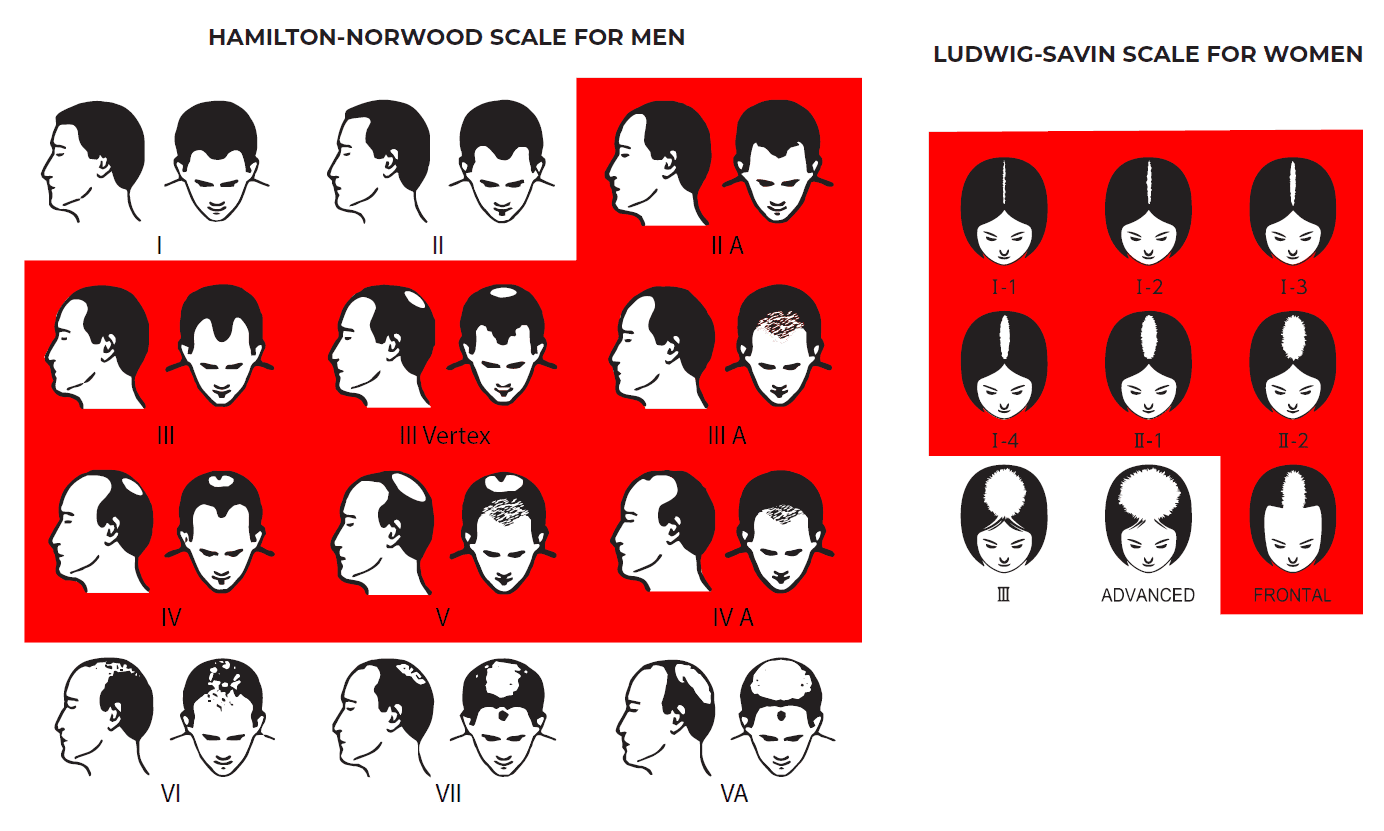 Skin Type
Like other hair growth laser caps, the LaserCap HD is known to be effective in men and women with white to brown skin tones, specifically Fitzpatrick skin types 1-4. The Fitzpatrick system is a way to classify skin type based on complexion and what happens when your skin is exposed to sunlight.
Contraindications for Use
If any of the following apply to you, consult with a physician before using the LaserCap HD or any other laser hair therapy device.
You are taking medications or have a medical condition that makes your skin sensitive to the sun or light.

You are allergic to red or near-infrared light (645-660nm).

You have a history of skin cancer of the scalp, head, or neck.

You are suffering from severe diseases such as cancer, hematological diseases, advanced diabetes, or heart disease.

You are suffering from scalp injury.

You are pregnant, menstruating, or nursing (lactation).

You are under 18 years of age.
Compliance Requirements
Like other hair growth laser caps, the LaserCap HD requires regular, consistent use for the best results. Make sure you use the LaserCap for 30 minutes every other day, or as directed by your physician.
Timeline of Results
If you comply with your treatment protocol, you should start seeing positive results from the LaserCap HD within 4-6 months. Over the next 1-2 years, you may see continued improvement, after which you should continue to use the LaserCap HD's laser hair therapy to maintain your results.
*You may see increased hair shedding for the first 1-2 months using the LaserCap HD. This is a normal part of the regrowth process and should not be a cause for concern.

Quality of Results
LLLT is an evidence-based hair loss treatment, proven effective in numerous high-quality clinical trials. The LaserCap HD is also cleared by the FDA as an effective treatment for male and female pattern hair loss. 
Nevertheless, it is important to understand that the results from hair growth laser caps can be subtle. Results will also vary from person-to-person based on the degree of hair loss when starting treatment, genetics, environmental conditions, and other factors inherent to each individual. In some cases, LLLT will produce hair regrowth and thickening. While in other cases, results will be limited to stabilization or slowing the rate of hair loss.
You can achieve better results by combining our laser hair therapy device with other evidence-based hair loss treatments. These include but are not limited to medications such as minoxidil (Rogaine), finasteride (Propecia), and hair transplant surgery.